Getform is a renowned tool that facilitates businesses in seamlessly integrating contact forms on their websites without any backend code. The primary objective behind Getform is to offer an endpoint for form submissions, enabling the addition of functional forms to static sites without backend requirements. While Getform is exceptionally beneficial, it may not cater to everyone's unique requirements. Hence, looking into the best Getform alternatives in 2023 is crucial.
Here are the top 6 alternatives to consider:
1. Formcarry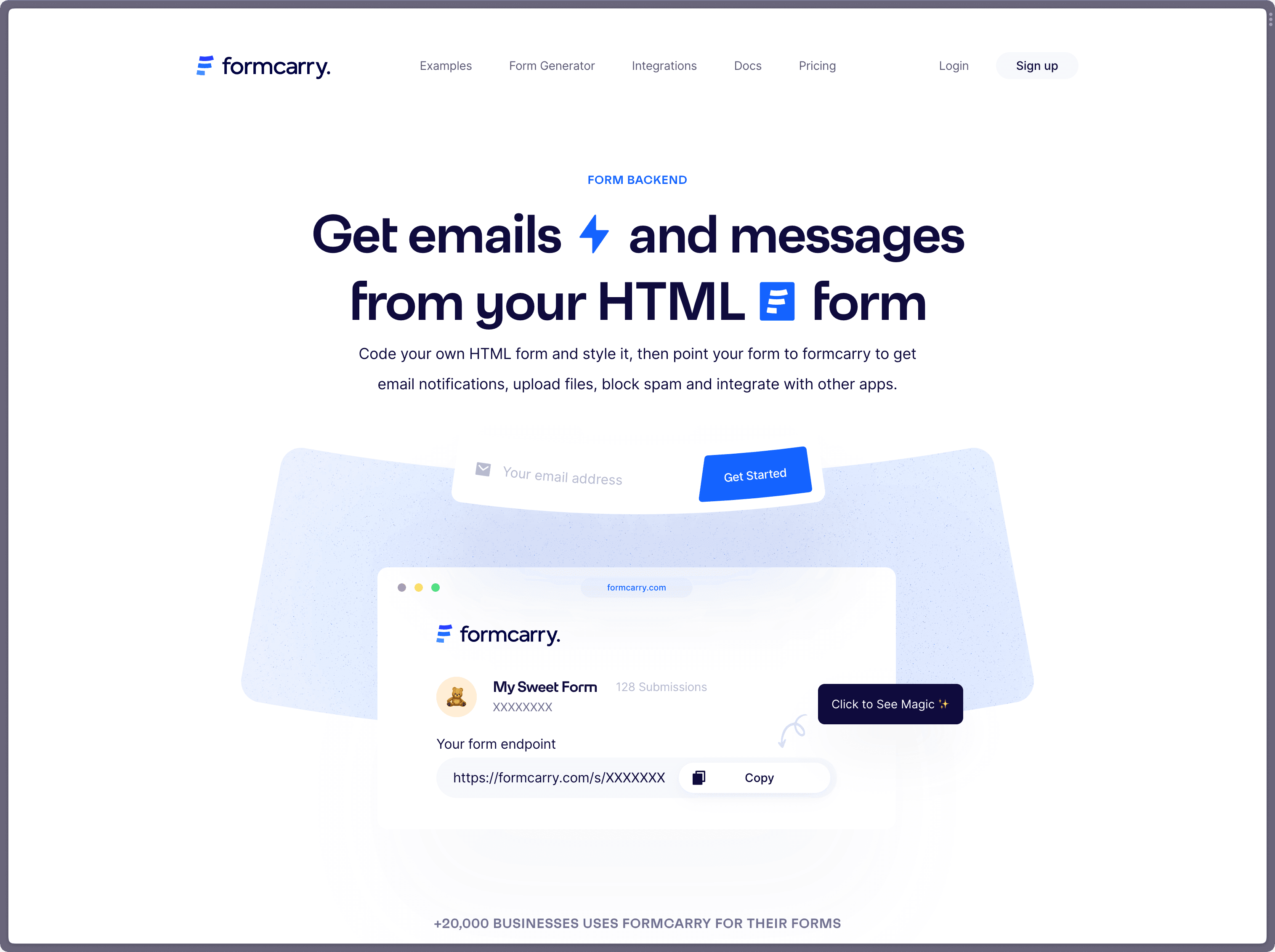 Formcarry
emerges as the superior Getform alternative, boasting affordability, flexibility, and an abundance of features. With Formcarry, users benefit from customizable thank you pages, backend form validations, extensive app integrations, and comprehensive team role management.
Pricing: Starting at just $6 per month, Formcarry surpasses Getform by offering a wider range of features even in its basic plans.
Form Submissions: Users enjoy an unlimited number of forms on paid plans and a perpetual archive of form submissions.
Integration: Even on its basic plans, Formcarry integrates seamlessly with apps, including Zapier. Although Getform provides a variety of integrations, Formcarry is more extensive and budget-friendly.
2. Formspree
Formspree
serves as another alternative, particularly if you're after a straightforward method to handle form backends. It enables effortless data collection without delving into backend coding.
Pricing: Formspree's pricing model provides different tiers to cater to varying needs, with certain features restricted to higher tiers.
Features: Formspree brings to the table features such as spam protection, integrations, and team management, albeit with certain restrictions based on the plan.
3. FormKeep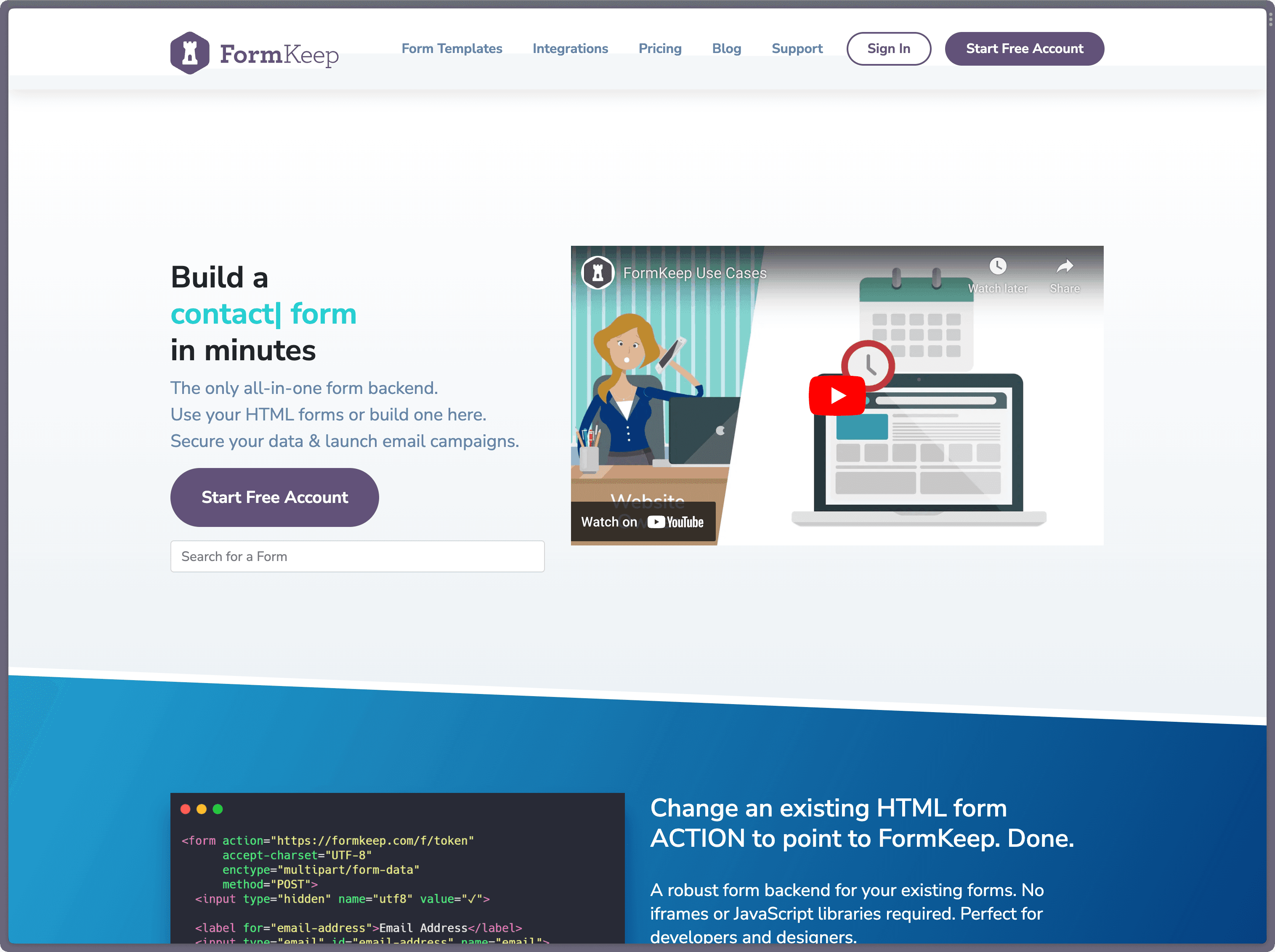 FormKeep
offers a similar form backend platform, complete with a drag-and-drop form builder. However, some feature limitations distinguish it from its peers. While many competitors offer instant email notifications, FormKeep's basic plans only allow daily notifications.
Pricing: Starting at $4.99 per month, FormKeep restricts many features, including team management, which only becomes available at the steep price of $59.00 per month.
4. Formspark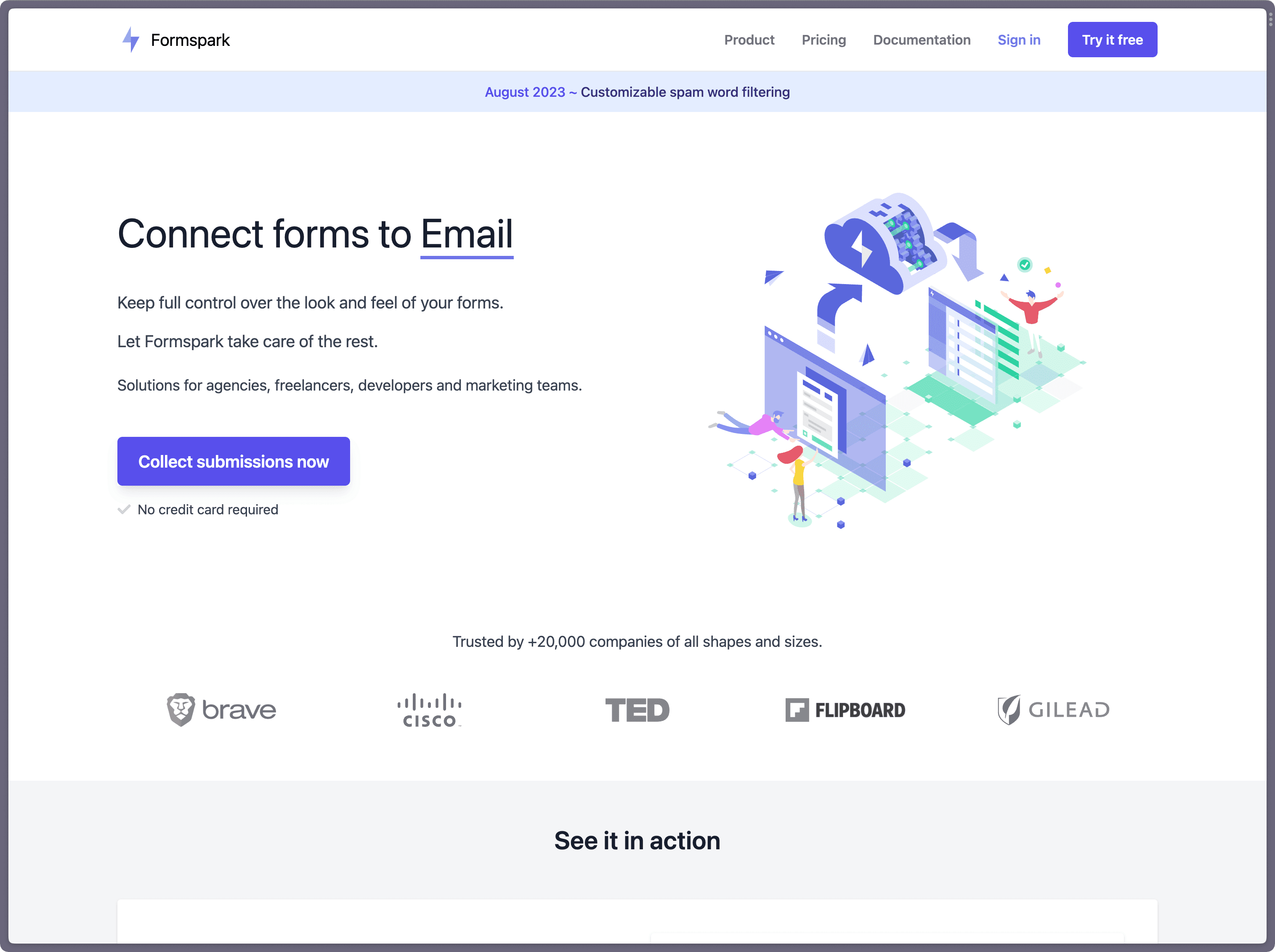 Formspark
offers a unique pay-per-submission pricing model, making it a suitable choice for websites with lower traffic. While it does lack some of Getform's features, its pricing makes it an attractive alternative for hobbyists or small-scale users.
Pricing: At $25, users receive 50,000 submission credits, valid for a lifetime. This pricing model is especially suited for smaller or low-traffic projects.
5. FormBackend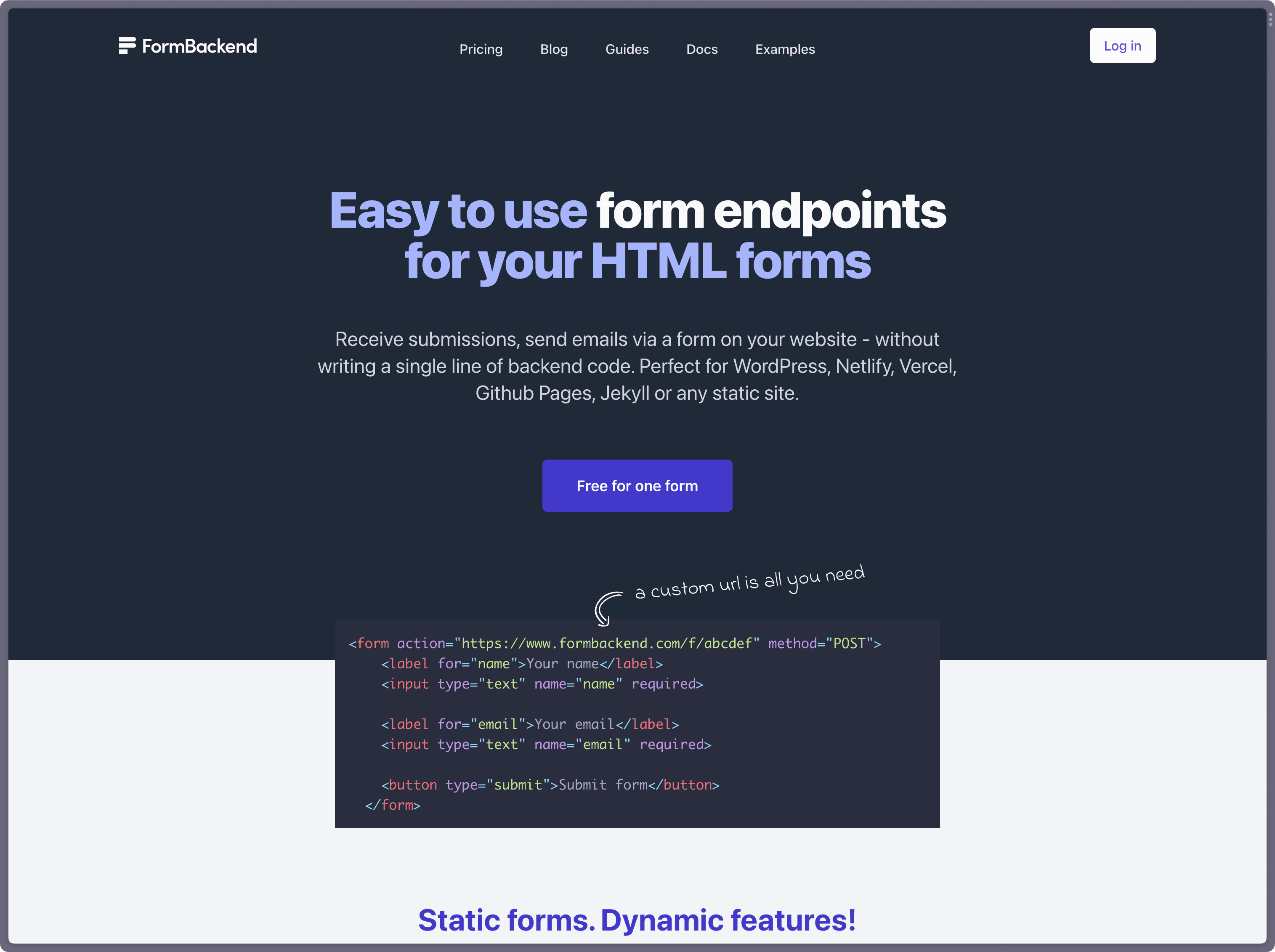 Formbackend
, catering mainly to hobby projects or sites with lower traffic, stands as another competitor to Getform. It offers a simplistic form management system but lacks many of Getform's advanced features.
Pricing: Priced at $5 per month, Formbackend may be budget-friendly, but it does compromise on feature flexibility and diversity.
6. FormBucket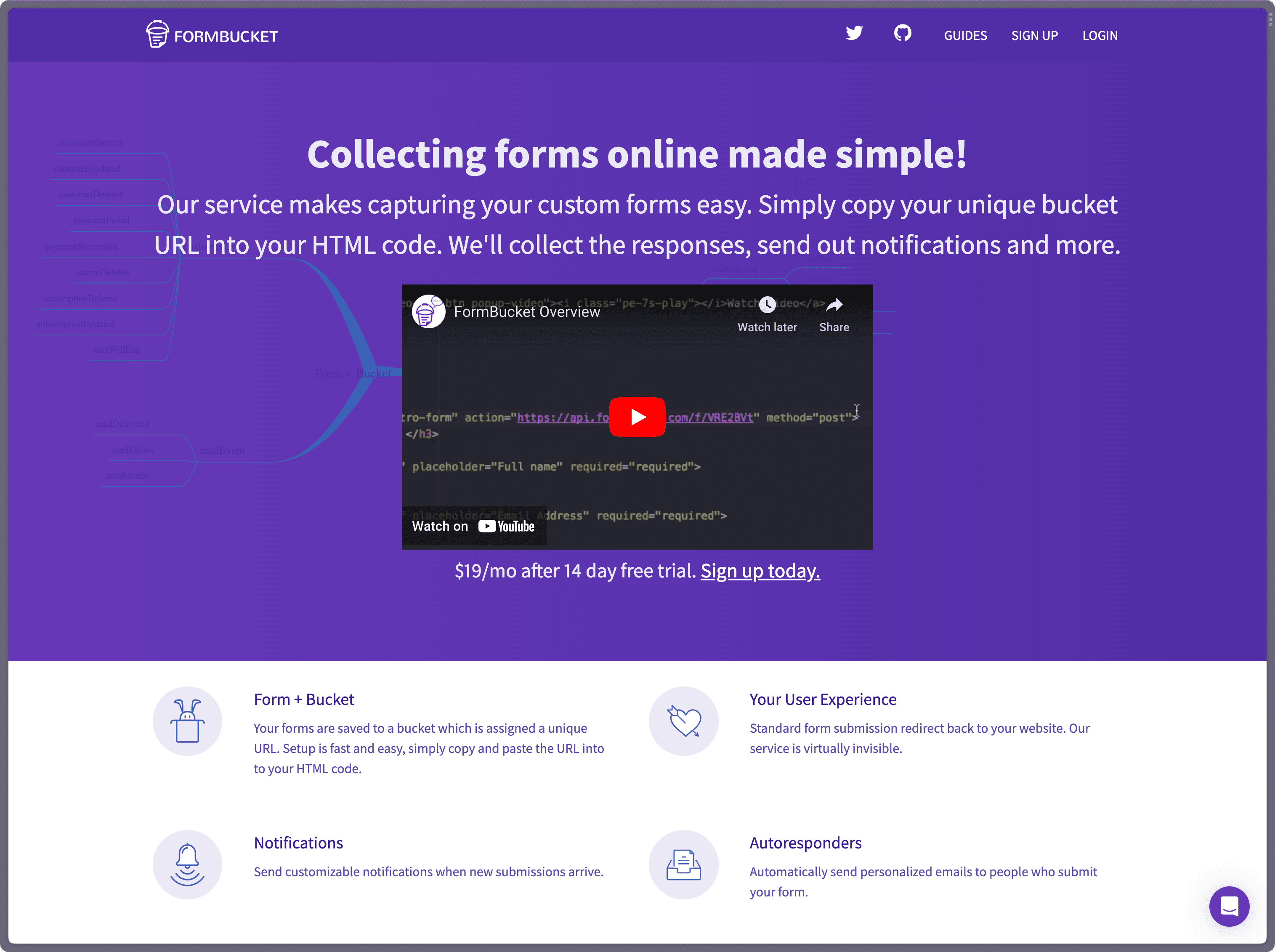 Formbucket
is a noteworthy Getform alternative, differentiating itself by not offering a free plan. Users can avail a 14-day free trial of its $19/mo basic package. However, it falls short in terms of features and integrations compared to Getform.
In sum, while all these platforms offer unique advantages, Formcarry stands out as the leading choice due to its robust offerings and cost-effective pricing.